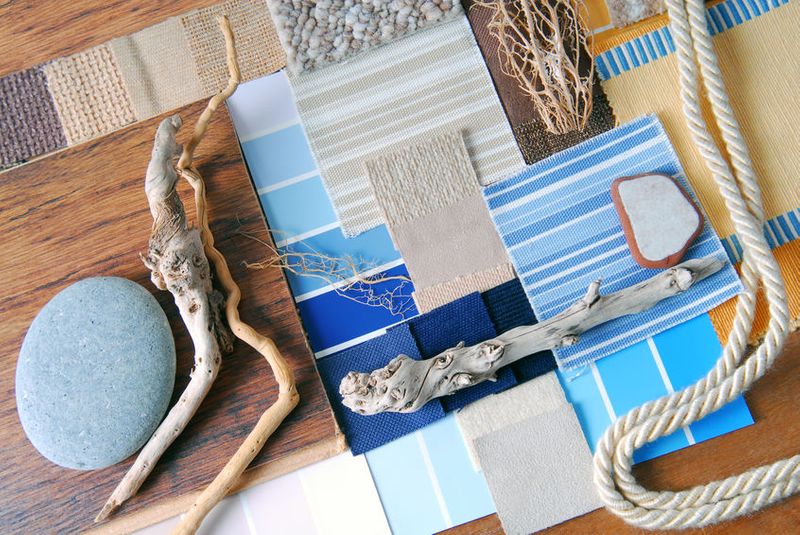 10 Creative ways to find some serious color inspiration for your home
Max Ruthven
Creating a color palette for your home can be quite difficult if you are uncertain about your own preferences. I have met so many people that are not sure what they want or even what their style is, so don't feel lost. I am here to guide you. My advice to you: Don't rush the process!
Think about it, ponder, plan. Be intentional when you page through a magazine, browse through Interior Design shops, watch all the unrealistic HGTV shows 😊 Which, by the way, is a huge problem for decorators and designers! Just saying….
Really observe what appeals to you and write it down. Inspiration is everywhere! You just need to identify it.
Let me share the way I do it and I know one of these will resonate with you!
1. Visit Model homes and Home Parades
2. Snip it, clip it or Pin it!
3. Turn to nature for inspiration
4. Fabric prints
5. Find art that "speaks" to you
6. Let's go shopping
7. Food
8. Restaurants and Coffee Shops
9. Design Conventions and Home Shows
10. Color trends
1.Visit Model homes and Home Parades
Google "Parade of homes" or "Modern Home Tour" in your area
Parade of Homes http://paradeofhomesaustin.com/
Visit model homes and take pictures of the rooms that appeal to you. It doesn't always have to be rooms - vignettes could capture color choices as well. See the picture of a part of the chair below? A beautiful soothing color scheme was developed by just capturing a part of a chair in a living room
Definition of vignette: small endearing scene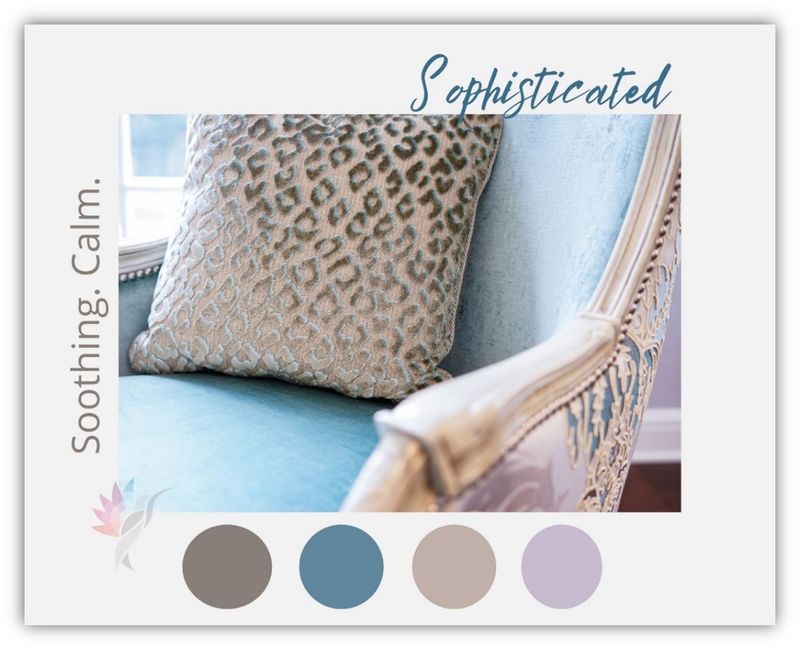 2. Snip it, clip it or Pin it!
Magazines are a great resource of inspiration. Cut out photos of rooms or save any image that is appealing to you and create your own mood board or vision board. Or Pin it if you are more inclined to digital inspirations and organizing systems
Go through your boards from time to time and eliminate the images that don't appeal to you anymore. In this way, you'll see a pattern develop which will emphasize which colors you are drawn to.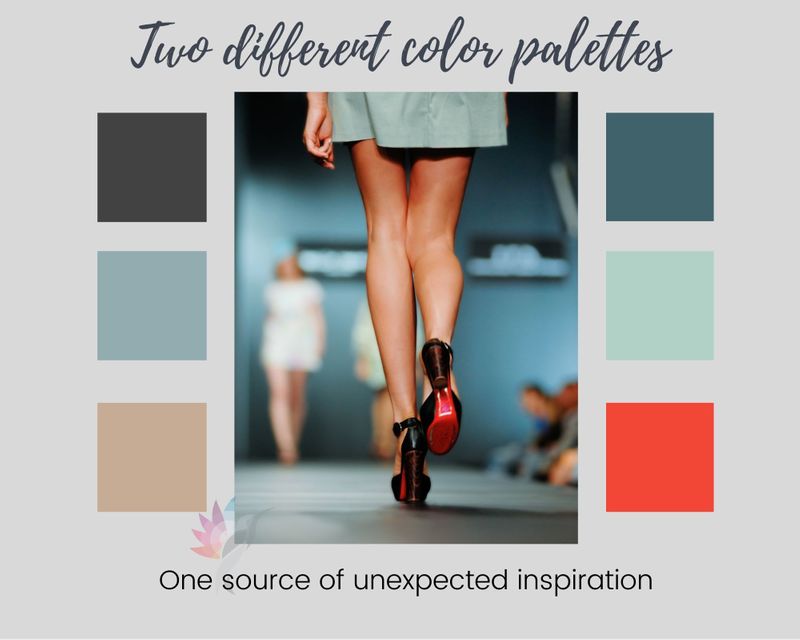 3.Turn to nature for inspiration
Birds, flowers, soil, stone. Seashore, shells and sunset. Color combinations in nature are pleasing and well balanced. It is already done for you!
Sherwin Williams has a great tool that you can use that will guide you closer towards the actual paint colors that might appeal to you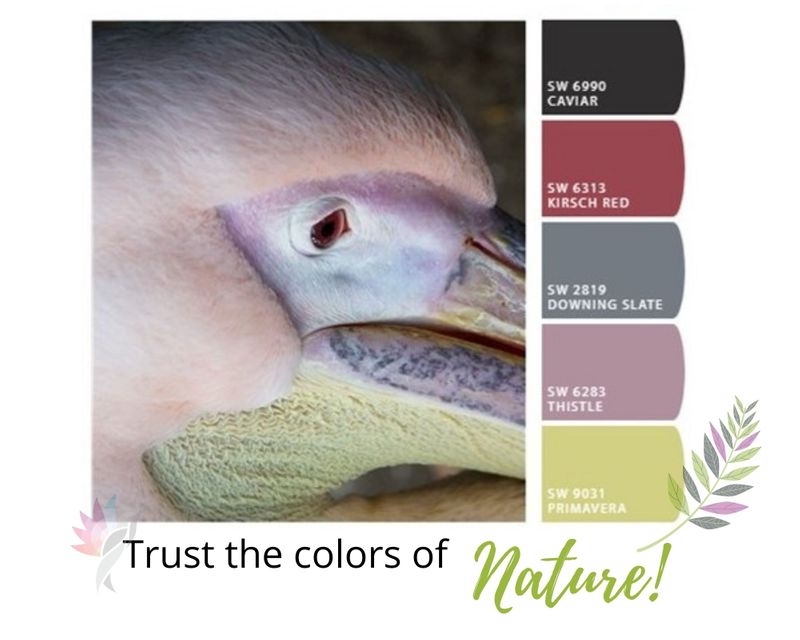 4. Fabric prints
No need to wreck your brain to invent the perfect color harmony. If you see a fabric that you absolutely love, use it to serve as your palette inspiration. Fabric usually have beautiful color combinations and you get to decide which color will be your dominant 60% of the palette and the rest you can break down into percentages of 30% and 10%
Three colors are usually enough to decorate a room. I just loved the way these four colors looked together! The small green circle could represent a succulent that you can add to your décor. The value of the colors in this illustration are all the same, because that is the way it has been printed on the fabric, but you can decide which color you would want to be lighter. The taupe could be much lighter and be applied as a wall color. The turquoise could be an even lighter furniture piece with a turquoise and orange pillow to pull it all together. Let your imagination flow!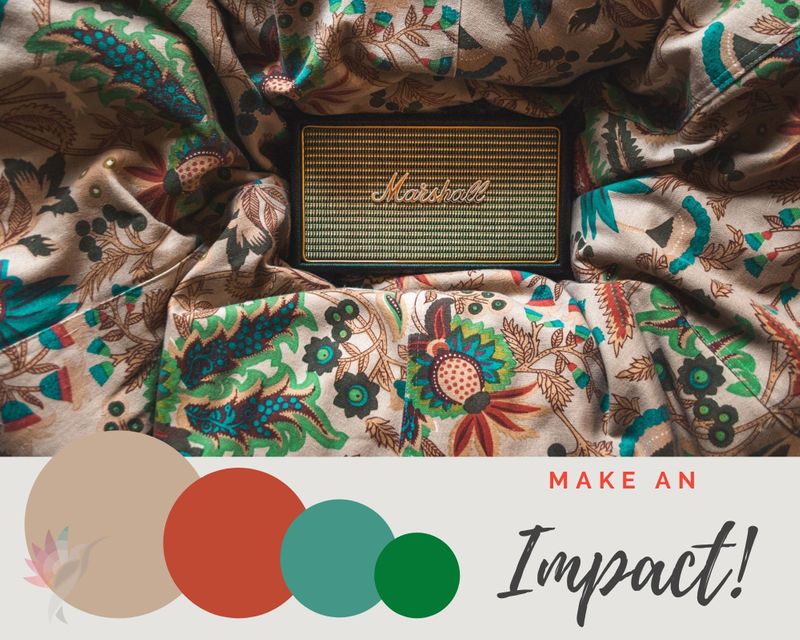 5. Art
Art can serve as a great inspirational starting point to create any kind of palette. In the picture below, we applied the blue to the cabinets, white quartz countertop and soft brass cabinet hardware and light fixtures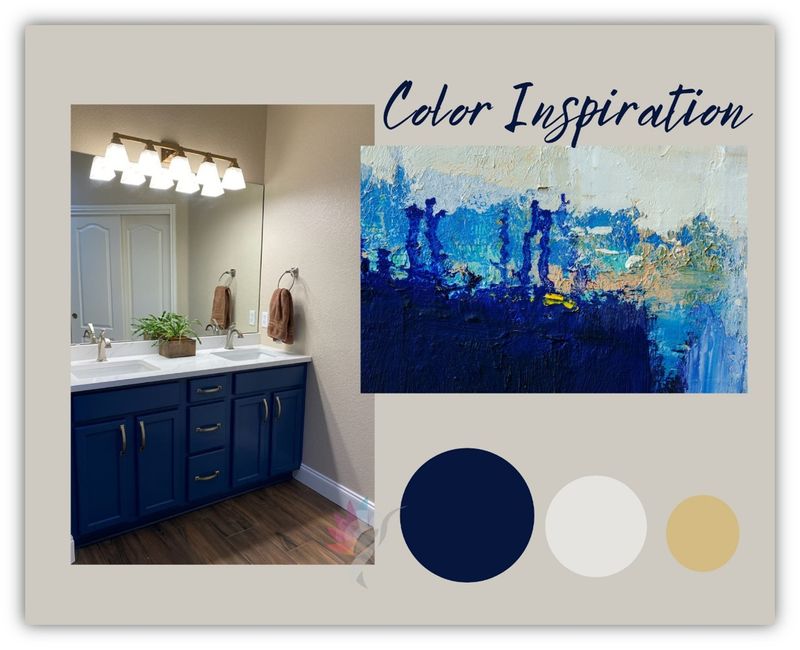 6. Let's go Shopping
Visit high-end furniture stores, such as Arhaus, Tommy Bahama, Bassett, Louis Shanks, John Williams, and so forth for current, timeless, classy or trendy color inspiration. Please ask for permission before you take some pictures. Make a note of what exactly it was that you liked about a certain display. The displays usually reflect effective and very tasteful color palettes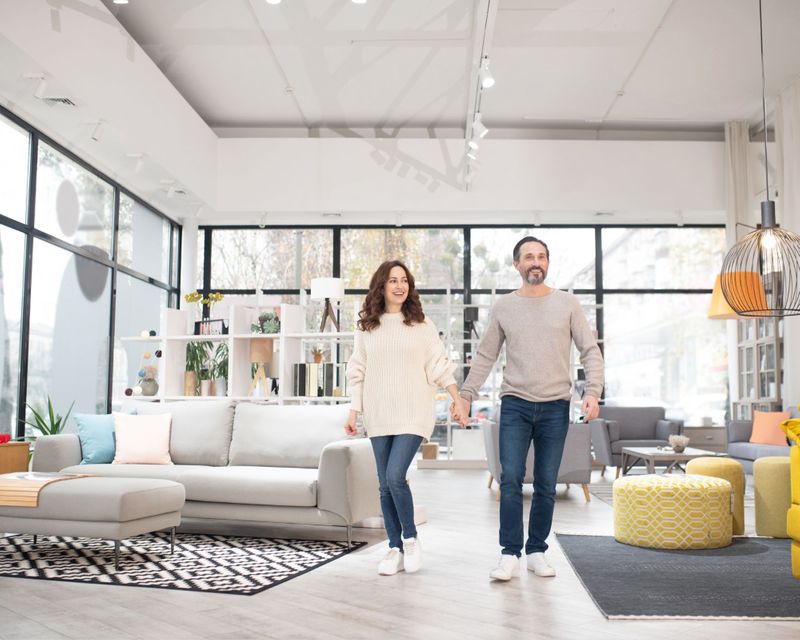 7. Food
Yes food! Food can be art on its own! Snap a picture of whatever appeals to you and pull colors from the image.
The picture of the oysters below could easily translate into a monochromatic master bedroom or living room.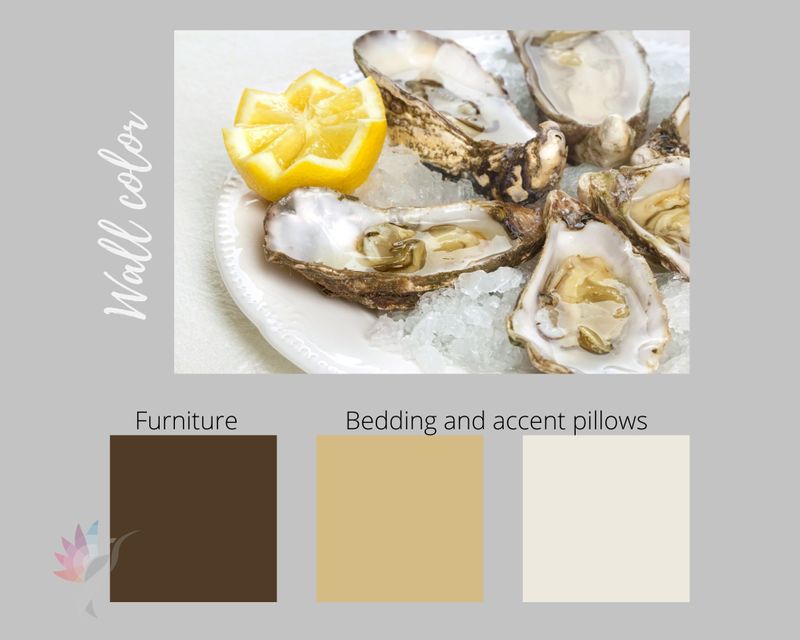 8. Restaurants and Coffee Shops
Get inspired by paying attention to see what the current decorating style and color palettes are in your local hang out places. I saw this at a local Daily Juice shop in Austin. Bright, simple and funky. Perfect for a contemporary loft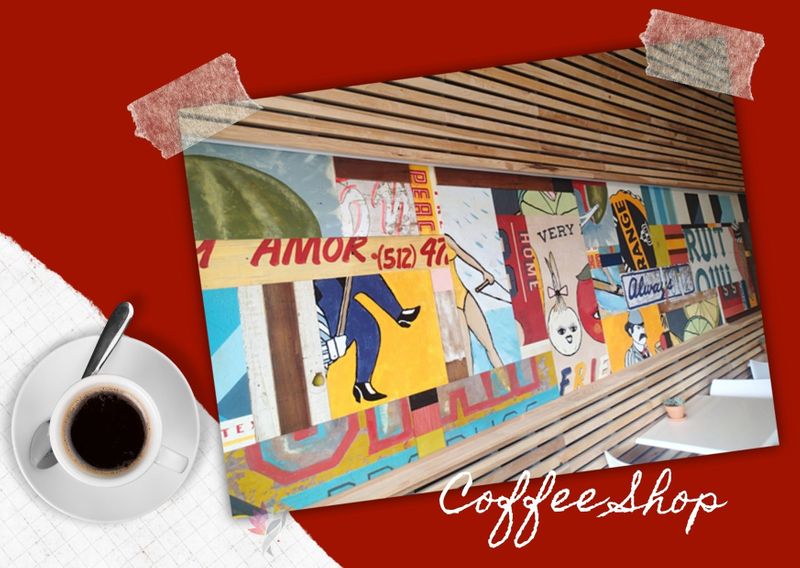 9. Design Conventions and Home Shows
This is always fun to do! Make sure you take a whole day off to visit one of the large Design Convention Centers and wear comfy shoes! Dallas, High Point, Las Vegas, Atlanta.
You will have to arrange with your Interior Designer or any other Design Professional who has access to the Design Centers to accompany you. It is always fun to go in a group. Take lots of pictures and once you start going through the images afterward, sort them into different categories such a specific color, furniture, accessories and narrow it down from there. It won't take you very long to realize that you lean towards a very specific color scheme or design style.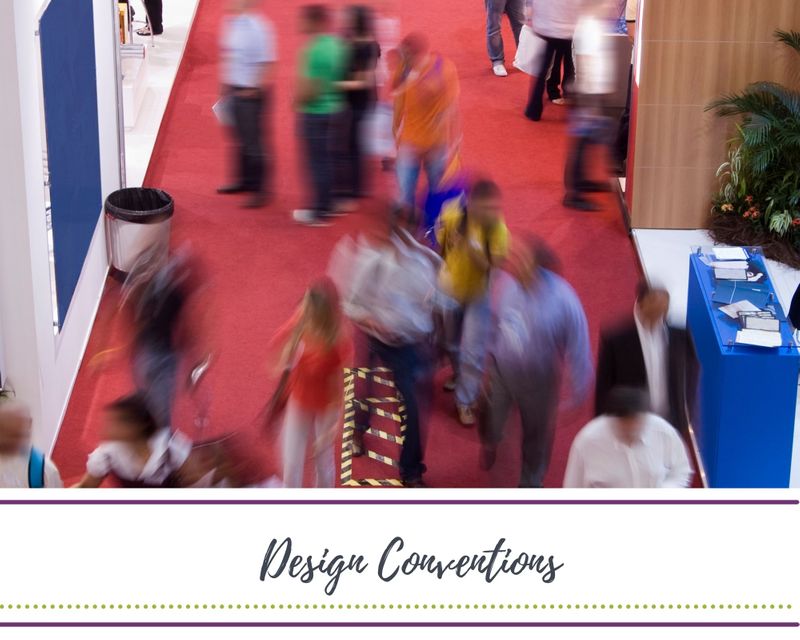 10. Color trends
Color trends are inspiring and fun, but unless you have an unlimited budget, I would suggest you avoid trends that are completely outside of your personal comfort zone. Trends usually have a short shelf life. To reflect your personal style, work with your favorite colors on a large scale and choose trendy accessories that would be easy and affordable to replace, once you're "over it."