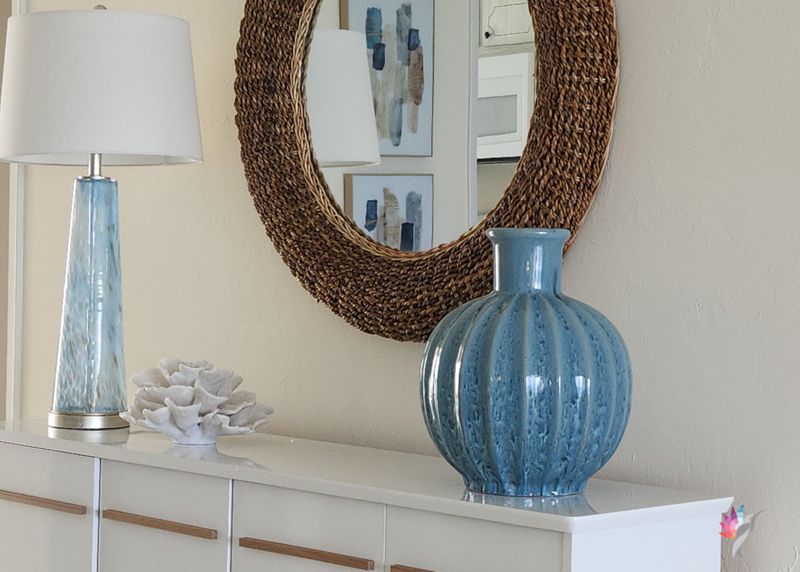 Coastal Condo Flair on a Budget
Max Ruthven
Nestled along Florida's picturesque southeastern coast, Highland Beach is a dream destination for those seeking the tranquil beauty of coastal living.
Earlier this year, I had the privilege of assisting one of my long-standing clients in decorating his condo in Highland Beach, close to Boca Raton, infusing it with a delightful coastal flair while staying within a budget that didn't break the bank. The view of this property is to die for! As far as you could see, it was just ocean! On the other side, as you enter the condo, what you see, is that of the intercoastal waterways. This place was surrounded by so much beauty!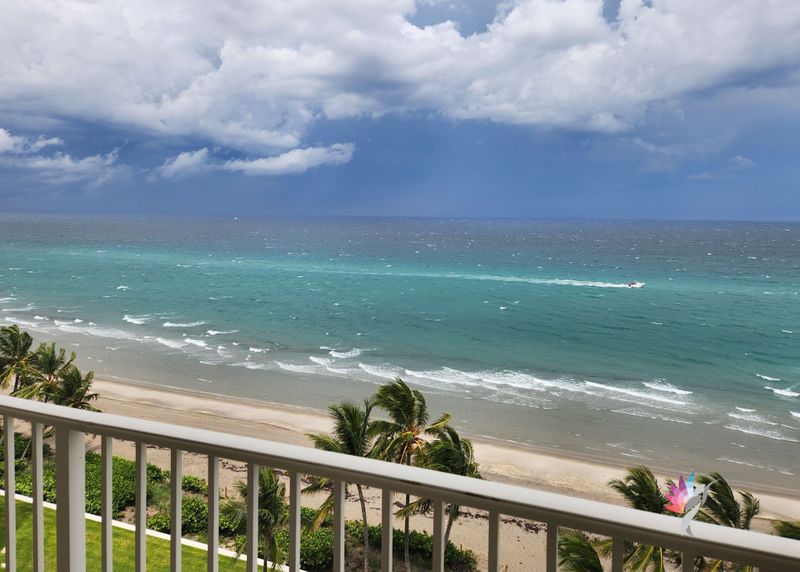 We started with a blank canvas. The tiles were neutral enough to serve as a versatile backdrop, and the walls already boasted soft, warm tones that were perfect for the coastal-inspired décor I had in mind. A coastal theme is all about embracing the soothing colors of the sea and sky.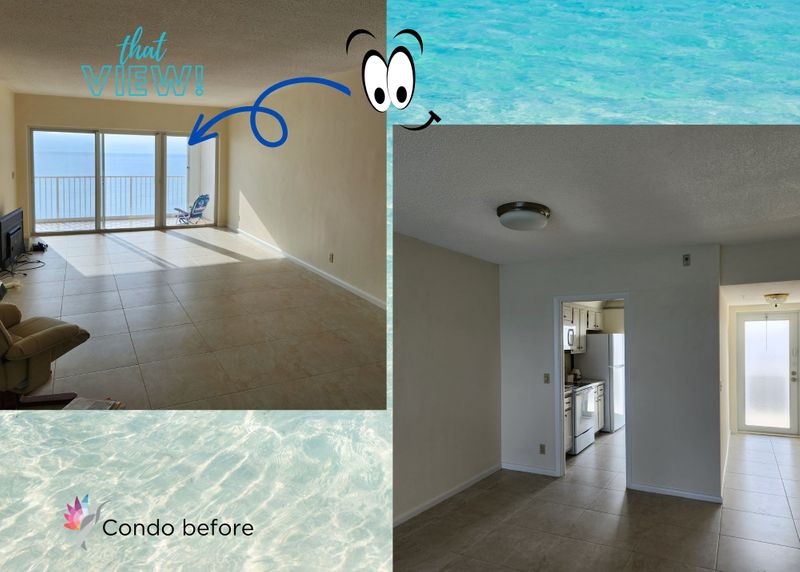 To bring the beach vibe indoors, I scoured for budget-friendly decor items in serene, beachy hues. Our aim was to create a space that was cool, fresh, and soothing, without venturing into the cliché territory of seashells, pirate flags, and fishing nets. I was super excited about finding the sea turtle at TJ Maxx! . If you are not aware of it, the state of Florida is on a serious mission to promote public awareness of Florida's marine ecosystems, and support sea turtle research both in United States and abroad.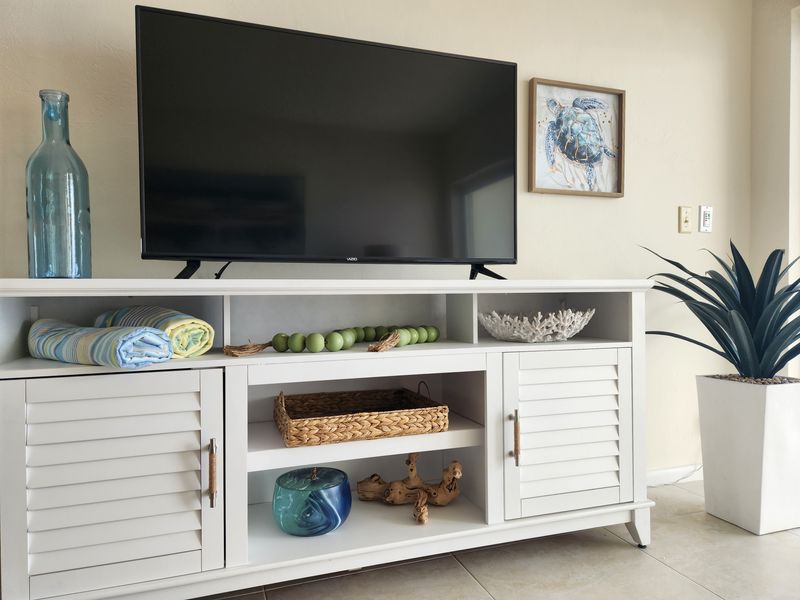 When it came to selecting furniture with a coastal feel, we found that it doesn't have to come with a hefty price tag. Our shopping adventures took us to stores like Rooms-to-Go, City Furniture, Home Goods, Ross, Target, TJ Maxx – you name it! Sure, it took a bit longer to find pieces that truly excited us, but the unpredictable end result was well worth the effort. Even when my client opted for "sets," we managed to infuse our unique touch into every corner. There was simply no reason to splurge $3500 on a TV console or sideboard and buying sets was less expensive.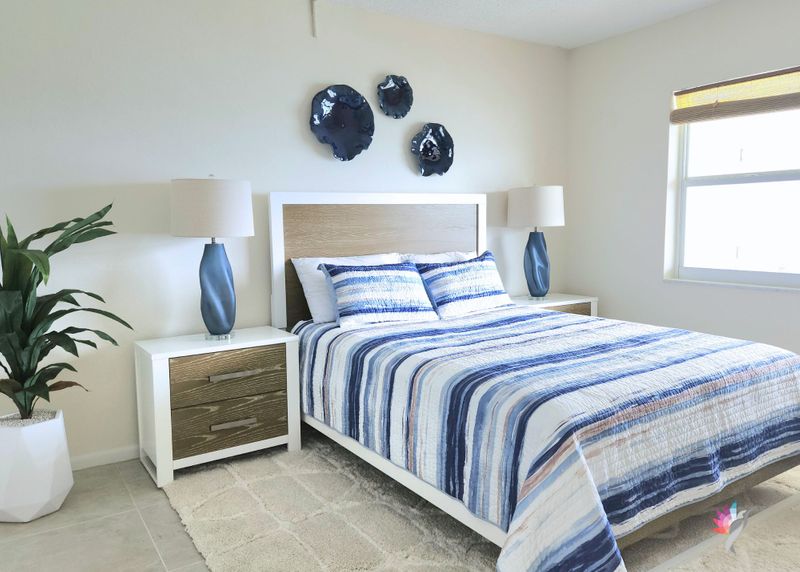 We leaned towards budget-friendly options such as wood, wicker or rattan decor, which not only exuded coastal style but the pieces that has to be moved, such as the dining room chairs, were also lightweight and comfortable. Given that my client is a senior citizen and might be renting the condo to retirees for extended stays, we prioritized furniture without sharp edges for safety and comfort.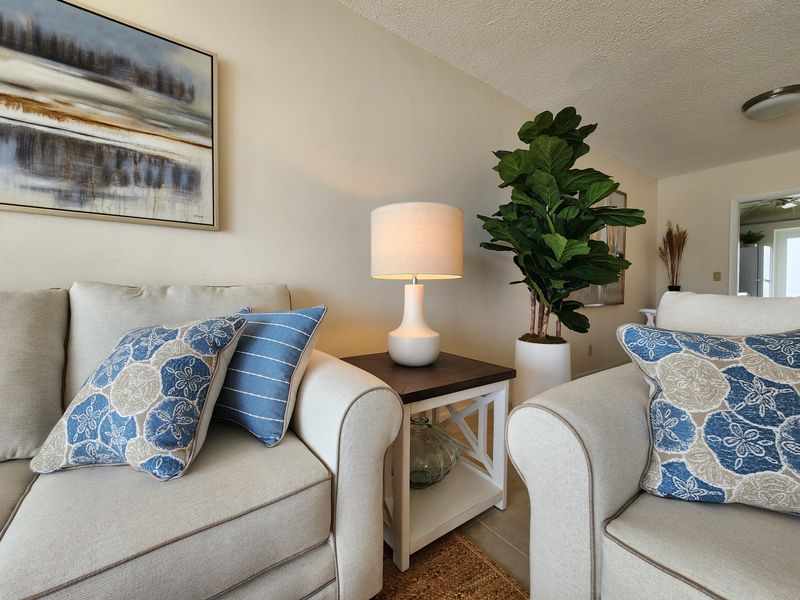 We incorporated some silk plants to mimic the lush, tropical foliage often found in coastal areas and it added a homely touch to the space. Accessorizing was the final step to complete the coastal look. I wanted to avoid a themed look but still have a serene, beachy feel. Serendipitously, the metal dolphin sculpture that was already part of his existing art collection in Salado, TX, found its way to Florida, becoming the perfect piece to complete the picture.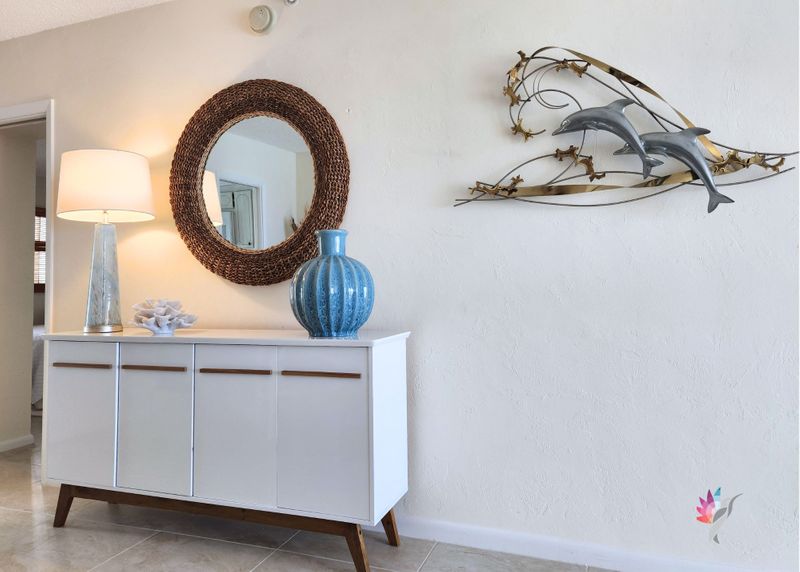 Decorating on a budget doesn't mean compromising on style. With a dash of creativity, savvy shopping, and a sprinkle of DIY spirit, you can transform your space into a welcoming coastal haven without breaking the bank!
For more images, click here. The only hotel on South Ocean Blvd, in that specific area, just a 7-minute walk away from this property, is called Delray Sands Resort. I highly recommend it if you want to be away from cray crowds and lots of commotion! Be sure to check it out!